Peter Wilson (JRGS 1956-63) apologies for missing the recent JRGS Reunion...

Having only recently returned from an 11-day visit to England, I just couldn't arrange to be over again so soon for the recent Ruskin Reunion. I was very sorry that I wasn't there this year, because it meant that I don't get logged in by that very nice young lady - Jennifer Macdonald? (My memory isn't quite as good as it was.)
I hope everybody had a great meet-up. I hope to get to the next one - maybe at the same location but at quite a different time of year? (That's me pictured left during the 2009 Reunion.)
At the end of June, I took my late father's 1980 Talbot Alpine 1,442 cc five-door hatchback - only 15 of them left on the road in England - to the Brooklands to Brighton Classic Car Run. It was great fun; the first time I'd ever been on one of these events. I stayed at The Brooklands Hotel the night before and also joined the pre-run dinner party. I found myself at Sir Stirling and Lady Suzy Moss's table! We had several chats with him, my lifetime hero. What a great chap he is - he recently turned 82 - and his wife was absolutely charming too. Sir Stirling flagged us off the following morning.
A month later I went to the 2011 Goodwood Festival of Speed - also great fun.
Peter J. B. Wilson, Guernsey, September 2011 Email
Frazer Ashford (JRGS 1962-69) shares images from the Third JRGS Reunion...
I secured the following images during the recent Third Annual Reunion at The Surprise pub next to the former JRGS school site on Upper Shirley Road. I enjoyed the reunion on 17th September, and hope that the pictures reflect this. Click on any thumbnail to view a full-size version. Click here to view a Flash version.
Left-to-right: Peter Connelly

,

unknown

, Melvyn Crabbe,

unknown

,

Anne Smith, Principal, 1970-99,

unknown

, Mike Marsh (JRGS 1949-55) & Peter Marchant (1949-57).
Left-to-right: David Metz (JRGS
1962-64), Cliff Cummins
(JRGS 1956-62), Bob Hawkins
(JRGS 1958-64) and John
Turner (JRGS 1959-65).
Left-to-right: Martin Nunn, Reginald Whellock, a biology teacher from 1946 to 1956, and Richard "Tom" Thomas (

JRGS 1957-64)

.
Left-to-right:

unknown

,

,

Chris
Rook

,

Martin Nunn, and
Richard "Tom" Thomas.
Left-to-right:

unknown

,

unknown

,

unknown

, Malcolm Derrick (JRGS
1966-74) and Andy Stevens.
Left-to-right: Mrs. Doreen Whellock, Sheila Yates, Stan Yates (hidden), Reginald Whellock and Ralph King.
Left-to-right: Martin Nunn, Richard "Tom" Thomas and Anne Smith, English teacher/Principal, 1970-99.
Former geography and RI teacher Martin Nunn was at the school
from Sep 1957 to May 1973.
The Gathered Throng listen attentively to reunion co-organisers, Ian Macdonald (JRGS 1958–65)
and Richard "Tom" Thomas.
Frazer Ashford, Coulsdon, Surrey, September 2011 Email
Richard "Tom" Thomas (JRGS 1957-64) and Ian Macdonald (JRGS 1958–65) add: The Third Ruskin Reunion at The Surprise on Saturday 17th September was enjoyed by the 42 Alumni, former teachers and their guests. Some attendees were from the Tamworth Road site and had finished their schooling before the outbreak of World War Two.
Martin Nunn, geography teacher for 16 years until 1973, related tales from his initial acceptance as a master, highlighting Mr. Charles "Pad" Peacock's resilience and fortitude in teaching after becoming blind, and Martin's own uncharacteristic smoking a cigarette in class in front of pupils at end of term (with the aim of warning of the dangers of smoking).
Martin was followed by former English teacher and principal Anne Smith, who told of the thinking and political machinations behind the formation of the new John Ruskin Sixth Form College at Selsdon on the former site of John Newnham Secondary School.
Last to take to the floor was the redoubtable Reginald Whellock, biology teacher from 1946 to 1956, author of three text books and an amazingly fluent speaker at age 97. He entertained all present with lamentations about the poor standard of current science teaching and reminiscences of his days at Ruskin. It was most heartening to note that at least half a dozen of his former pupils were present, as was Doreen, his wife. Both had just returned from a driving holiday in Yorkshire. (Doreen informs us that her husband's driving license is due for renewal at age 100 years!)
After the presentation of bottles of choice red wine to Anne Smith as the most "senior" female ex-alumnus or staff member, to Stan Yates as the furthest travelled, and to Reg Whellock as the most "senior" male ex-staff or alumnus, Tony Skrzypczyk (JRGS 1968-75 & FOSW Secretary) kindly provided a guided tour of the Mill - always a popular option and event highlight. Martin Nunn sold souvenirs from the Mill shop. The tour had started in good weather but ended in a downpour without dampening spirits.
Mel Lambert's distinguished efforts in setting up and continuing to run The Mill website received the grateful thanks of members.
Many ex-Ruskins who wished to attend were unable to do so because of holidays or weddings. This was one reason Tom circulated a questionnaire seeking views as to date and frequency of future reunions; comment is sought on a future format and venue. PDF Form; please return your comments to Richard "Tom" Thomas.

Mike Marsh (JRGS 1949-55) adds: I also took some images, which can be found here. Shown right is my former biology teacher, Reginald Whellock, now aged 97 years young. Click on the thumbnail to view a full-size version.
Peter Marchant is seated next to me in the above photograph. I was pleased to meet up with him again after all these years. Peter only heard of the reunion by chance this year, or else he could have come last year. I went through school with him although Peter did rather better than me, staying on into sixth form. He was in the CCF (combined cadet force), then went on to Sandhurst and spent some years in the army. He finished up as a manager of a gin distillery in London. Peter lives not far away from The Surprise - the last I saw of him after the reunion he was walking home up the hill in the rain! (He could, of course, have been heading for a bus stop.)
I am also be seen in the last picture with Peter. The chap in the bottom right corner is Ron Hayle, who was at JRGS the same years as me, I think. Peter Townsend started before me by a couple of years; I am pretty sure that's him towards the left side with the blazer.
In the other images, the lady in pink seated near Reg Whellock is Mrs. Doreen Whellock - they have been married 69 years. It looks like Reg got married somewhat later in life, aged 28, since he was born in 1914. I'm afraid that cannot name any of the others.
Ron Hayle lives in Exeter, I think, although he is moving to Weymouth; he was a lab technician. He now lives on his own. It was Ron who brought Reg Whellock into The Surprise last year when the latter turned up after most people - including myself - had gone home.
An interview with Reg Whellock from the Old Croydonians website for ex-Selhurst pupils can be found here.
ML adds: Paul Graham (JRGS 1959-66) also profiled Mr. Whellock in a recent submission.
Tony Skrzypczyk (JRGS 1968-75 & FOSW Secretary) shares new china souvenirs...
Shown below are several china souvenirs that have been donated to the Friends of Shirley Windmill. All three items were dropped off anonymously on Shirley Windmill Open Days - they had been found in parents' belongings and were unwanted. Click on any thumbnail to view a larger image.
Do any of our alumni have similar items, or know where and when these items might have been produced?
Tony Skrzypczyk, Croydon, Surrey September 2011 Email
Russell Ead (JRGS 1959-66) sends an image from his recent holiday in Egypt...

ML writes: Russell's wife, Denise, has forwarded this image, shown left, of the happy couple enjoying some rest and relaxation in Egypt late last year.
Click on the thumbnail to view a larger version.
As The Alumni may recall, Russell attended JRGS from 1959 to 1966, after which he studied medicine at Manchester University and qualified in 1971. He then undertook postgraduate training in Salford and Leeds and, in 1979, was appointed consultant dermatologist in Manchester and Salford. He married Denise in 1974; the couple has two children.
Russell describes himself as a keen gardener and supporter of Manchester City FC.
Russell Ead, Marple, Stockport, Cheshire, August 2011 Email
Mike Etheridge (JRGS 1963-65) reports on this year's Bromley Motoring Pageant...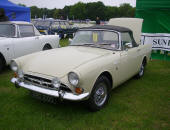 The annual Bromley Pageant of Motoring was held on Sunday, 12th of June at its traditional venue, Norman Park, Bromley. As in previous years, anyone with a pre-79 car was allowed to bring their vehicle to the site and park for free. Once again the one-day event was promoted under the Classic Car Weekly banner.
Unfortunately, it rained continuously from about 10 AM. My friend Paul helped run the Sunbeam Alpine owners club stand and my wife's old VW Polo Ranger acted as the support car.


The Alumni might be interested in seeing some of the images I secured of favourite cars, vans and lorries that date back to the Fifties and Sixties, although the photographs are not up to the standards of recent years.
Click here to reach the gallery. Past pageants: 2010 2009 2008 2007 2006 2005
Mike Etheridge, Sanderstead, Surrey. July 2011 Email
Terence Morris (JRGS 1942-50) has co-authored a new book on the law of murder...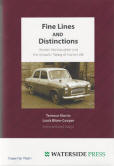 Last Thursday, June 30, Sir Louis Blom-Cooper QC and I had a launch for our new book Fine Lines and Distinctions: Murder, Manslaughter and the Unlawful Taking of Human Life, published by Waterside Press. The launch in the Middle Temple was hosted by the Lord Chief Justice, who wrote the foreword. Click on the thumbnail left to view a larger cover illustration.
Besides myself, two other old JRGS scholars were present, namely my contemporary Fr. Anthony Nye SJ and Sir Tim Workman, the Chief District Judge. The building may have gone, but the school is still alive! (By the way, I am now 80 and my co-author 85.)
From the Waterside Press website: "In this powerful account, the authors show that - from Sir Edward Coke's classic common law definition of murder, through political fixes, poorly thought-out compromises and misguided legislative or Executive tinkering - the English law of homicide is in 'a mess'.
"Even the most adept legal minds are faced with what has been described in Parliament as 'fine lines and distinctions'. What must juries make of messy laws and how can anyone have confidence in criminal justice if laws affecting some of the most serious offences in the criminal calendar are deeply flawed? To make matters worse, the entire subject of homicide in England and Wales is further distorted by the existence of the mandatory life sentence for murder.
"Building on unrivalled knowledge, extensive research, close practical observation and incisive analysis, Professor Terence Morris and Sir Louis Blom-Cooper QC trace the development of the law of homicide from early times to the present day. They counter and dismantle specious arguments for preserving the status quo and point out that only root and branch reform of the basis of liability for homicide and its sentencing regime will serve to restore justice, fairness and political probity.
"Professor Terence Morris and Sir Louis Blom-Cooper QC are two of the UK's leading experts on the law of homicide, having studied developments together for over 50 years. This has led them to recognise the extent of disquiet, especially following 'particularly troubling cases' and to conclude that the law of homicide in England and Wales is 'an unsatisfactory law enveloped in a political fix'.
"Their suggestion of a replacement single offence of criminal homicide coupled with abolition of the mandatory life sentence for murder in favour of discretion at the sentencing stage demands close study by judges, lawyers, legislators, academics, penal reformers and anyone who senses that something is seriously amiss."
The 480-page book is also available through Amazon.
Terence Morris, Hampshire, July 2011 Email
ML adds: If you are wondering - as I was - about the significance of a Fifties-era saloon car gracing the front cover of his new book, Terence offers the following explanation: "The old Ford Prefect 100E was the car driven by 'Gypsy' Jim Smith in 1960 and from which PC Meehan, who was trying to stop him, fell into the path of oncoming traffic. Smith was convicted of murder, reduced on appeal to manslaughter and then, after a prosecution appeal to the House of Lords, found guilty of murder again! He was reprieved, though the case DPP v Smith reverberated round the Commonwealth. We deal with it in the book."
A full list of archived News/Events Pages can be found here.
The content of this web site is provided for informational purposes only, and is subject to change without notice. The JRGS Alumni Society makes no representation about the accuracy, reliability, completeness or timeliness of the content of this web site, nor the results to be obtained from using any part of such content.
Please send any messages and memorabilia to webmaster
©2021 JRGS Alumni Society. All Rights Reserved. Last revised: 01.01.21