Karl Smith (JRGS 1946-51) reports the sad death of Father Anthony Nye SJ

Tony Nye (JRGS 1949-51), who joined the sixth form from Archbishop Tenison School in South Croydon, and later became a senior member of the English Jesuits, sadly died from a heart attack on 19th April, 2022, at the age of 89. He is pictured right in a photo of members of the JRGS Upper VIth taken in the summer of 1950 at the school's former site on Tamworth Road. Click on the thumbnail to view a full-size image.
In the sixth form we were joined by several other pupils formerly at Archbishop Tenison School; I'm almost sure that Peter Heath and Anthony Nye came one year and were followed the next by Roy Baldwin and Gerald Scivier.
I remember seeing Tony as Lady Bracknell in the school's December 1949 production of Oscar Wilde's The Importance of Being Earnest, A Trivial Comedy for Serious People] His Lady Bracknell performance stayed with my own father the rest of his life! Of course, the late Owen Everson - who became Canon of Southwark Cathedral - played John Worthing, aka "Ernest". Geoffrey Child was a very winsome Geraldine and Derek Howes a somewhat unctuous Canon Chasuble - if my memory serves me right. More
Terence Morris (JRCS 1942-50), who is also pictured in this image, wrote: "The only John Ruskin old boy with whom I am still in close contact is my friend Anthony Nye. [Headmaster] John Lowe was very proud of the fact that Tony published a children's book, The Witch's Cat, while still in the sixth form. After studying English at University College London, Tony joined the Jesuits and is now a very revered and distinguished member of the English Congregation of the Order. [Father Nye entered the Society of Jesus - the Jesuits - in 1955 and was ordained as a priest in 1966.]
"He and I edited the school magazine for a while. He enjoyed a long and distinguished career in various parts of the world, having been headmaster of a Jesuit school, a missionary in South Africa during apartheid, and parish priest of Farm Street in London's West End."
Father Nye SJ was guest of honor at the 1971 Speech Day, the school's 50th Anniversary year.
Karl W. Smith. CEng., FRAeS, Heckington, Lincolnshire; May 2022 Email

Your Webmaster adds: In addition to an illustrious career within the Jesuit order - including a 2015 celebration at Farm Street Church, central London, after 60 years of continuous service - for several years Anthony Nye served as a priest advisor for the Father Brown TV series, which was loosely based on short stories by G. K. Chesterton. Requiem æternam dona ei, Domine. Et lux perpetua luceat ei - a prayer is taken from the "Handbook of Indulgences." Eternal rest grant unto them, O Lord, and let perpetual light shine upon them.

David Cross (JRGS 1944-50) adds: It was so good to see those members of the 1950 Upper Sixth. I was in the Lower Sixth then, one year behind. I recognise the faces, but the names are long gone from my own 89-year-old brain. I remember Tony Nye as a very serious chap; quiet and studious.
I passed the scholarship examination at the end of my primary schooling in Woodside Road School (with beatings from the headmaster, Mr. Benetto) and started at John Ruskin Central School in September 1944, as I recounted in a previous submission to this site. Three years later, aged 14, my classmate "Ginger" Edwards and I went off hitch-hiking in France and enjoyed several weeks under canvas, falling in love with France and the language as we travelled. Times have changed; could boys of that age hitch hike today?
Much caned by the new headmaster, Mr. John Lowe (I was somewhat rebellious), I nevertheless went into the sixth form in 1949 and, on the basis of the Matriculation Exemption, I had gained in the School Certificate examination. I studied French, Latin and English and much enjoyed it, but became aware that to gain the Higher School Certificate would mean yet another year of study and, logically, entrance to a university. I was also aware that my single parent Mum (she divorced Dad) worked long hours at Webber's football factory and could ill afford to support me for those further years – women earned far less than their male counterparts. And, I was anxious to earn a real wage of my own, my paper round and the Saturday job as a butcher's boy paying very little. So I left Ruskin in July 1950.
I worked in the city at the Standard Bank of South Africa until April the following year, when I became an infantryman and was posted to Cyprus and then on to Egypt, where King Farouk was demanding that the British leave the country. While I was there on national service, Farouk was kicked out and General Naguib and Colonel Nasser started to make trouble. For the most part, though, the conflict between us soldiers and the Egyptians was with the Moslem Brotherhood irregulars.
I clearly remember the death of much-loved George VI in 1952, As I write these words at my home in the south of France, it is June 2nd 2022, the Queen's Platinum Jubilee and hence the 70th anniversary of the day that my 19 year-old self took part in the funereal parade in Egypt. Having spent our lives under Kings George V, Edward VIII and George VI, it seemed very strange to us infantrymen to sing God Save the Queen.
After the army I was very unsettled and flitted from job to job. I went back to the city for a short while, then became a store manager before becoming self-employed as a tour manager during the Easter and summer months and a street trader and semi-professional musician in the off-season months. I married and had two lovely sons, but (thanks to me) the marriage broke up when David and Daryl were still quite young.
A Teaching Career
Tiring of cold winter markets, I noticed advertisements for mature people to become teachers to cope with the increasing population. Thanks to my 1950 Matriculation I was able to enter St Mark and St John's College (London University) in my mid-thirties; studying, yes, but at the same time having to scrape a living with my trumpet, some trading, and more tour management in the vacations. Aged 39 I gained a BEd (Hons) and began teaching French at Walworth School in the ILEA. My maturity meant I had no discipline problems in a tough comprehensive - I'd been a boxer too in my youth - and I became second in the Modern Languages Department after only one year.
Having had to learn several languages extremely quickly as a tour guide on Grand European Tours for many years, I could not understand why it took five years for schools to teach pupils enough French to be afraid to open their mouths to a native speaker. I planned better ways of teaching languages, involving what I called Taster Courses in several languages and then an intensive course in French or German started ab-initio in year three. After three years at Walworth I saw an advertisement for Head of Department in a school to be opened the following year – an amalgamation of two church schools to be called the Archbishop Michael Ramsey School. I applied.
When asked by the interviewing board why I wanted the job, I told them I was not certain that I did. They were astonished. Why was I there, they asked? I told them that if I were to take the job they would have to cope with serious changes from the traditional times given to the department and that I would have to be the person choosing the teachers for the department (although I would "inherit" a few from the existing schools). I then provided handouts stating exactly what I would need to make a success of language teaching. I also told them that there would be no text books and no desks in language classes, as both impede communication.
They asked me to wait outside while they looked at the handout and pondered. As I left, one interviewer said, somewhat nastily I thought, "You're a self-confident young man, aren't you"? To which I replied, "Madam, it is up to you to decide if you want a confident HOD or an insecure one". Somewhat to my surprise they called me back after quite a long time and offered me the post.
They made the changes for me. I cannot properly recount here the way we structured the teaching but it was exciting and enjoyable for teachers and pupils alike. What is more, our pupils got better examination results in French O-Levels than comparable schools, despite having started the intensive programme in Year 3 and having had only 60% of the traditional "drip-feed" five years exposure time. Our pupils had also sampled and enjoyed German, Spanish, Latin, and what I called "Linguistics" (studying how languages hang together via grammar) through the taster courses in Years 1 and 2, and some pupils took up German in Year 3 as a result of the 10-week taste (we could not offer Spanish).
During those seven years, I became a name in language teaching, with attention from radio and TV. I talked about our innovative programme all over the UK and indeed abroad. I published many articles, and as I worked I also studied evenings at Birkbeck College for an MA in Linguistics and eventually gained a PhD in Education from the University of Wales. I also married a lovely French lady who helped me enormously and gave me two fine girls (now language teachers, of course).
The PhD changed my life. I became a senator of London University representing the faculty of education. The doctorate also brought me immediate promotion to senior teacher at the Archbishop Michael Ramsey School, together with the threat of an eventual headship or a move to the ILEA inspectorate. Neither of these prospects could tempt a man who hates admin and enjoys teaching and its close relationship to show-business (if you can sell jewelry in Oxford Street and get people jiving to your music, you can easily make lessons entertaining - and profit from a captive audience in the process). So, it was time to change my life again.
Phase II - Teaching Abroad
Marianne, the lady I had met during a spell at Caen University during my degree course, was by now mother of my two little girls and a secretary at the French Embassy in London. We agreed that I should resign and try for a teaching job abroad somewhere. If I failed, she would stay at her post and feed the family. If I were successful, she would follow me with our daughters, Lorraine and Sandra. I was lucky enough to get a job creating materials for training teachers of English in Egypt (back to the sand again, but with a typewriter instead of a rifle) funded by the ODA.
After three wonderful years - by then Egypt was peaceful and we could travel everywhere - the family was back in the UK and I was looking for another overseas contract. A friend at the British Council tipped me that fluent French speakers were needed for teacher-training positions in francophone Africa and again I got lucky. Off we went to the Ivory Coast and a total of 10 years teacher training there, with outreach to neighbouring countries. We lived extremely well in Abidjan, the work was interesting and again I (and often we) travelled extensively in the whole francophone region. Lorraine and Sandra went to boarding school in Britain when they reached 11 years of age, and eventually to university - all paid for by the British government.
At the end of my contract I got lucky again. My institution was visited by an American NGO and one member asked me if I would be interested in a USAID education project in Benin. You bet I was! I was interviewed in Washington and Marianne and I spent the next two years between Cotonou and Porto Novo, leading a team of inspectors in creating a syllabus (French of course) for the nation's primary schools. This task involved designing the curriculum, organising the teacher training (via cascade training, whereby I trained 10 inspectors to train 10 more each so that 100 inspectors could handle the job), creating the teaching materials and so on. It was a great deal of work and lots of strain. Again good fortune smiled on me; as I neared the end of the contract I got a phone call from Ohio University with a job offer. Why? How? It was quite fortuitous.
In Egypt, years earlier, my training materials had been trialed by a team of two dozen American teacher trainers spread nationwide but led by a man from OU who became a good friend over our collaboration. While in the Ivory Coast, thanks to him, my family and I had spent several summers in Ohio with me teaching a 10-week course at the university. So, when the MA programme in the Linguistics Department at Ohio University needed a well-published somebody to teach pedagogy - for example, classroom management, materials development, test design, curriculum, syllabus development, etc. - he suggested me, someone they already knew. So, when the phone rang and I was invited to join Ohio University for a few years, it took all of several seconds for Marianne to agree with me that it would be a great place to end a career - I was 64 years old by then. Once again I had a wonderful teaching experience; what is more, Lorraine had just gained her BA (Hons) in French and she was eligible to follow free of all charges the two-year MA degree programme on which I taught. As in my previous posts, I enjoyed long holidays and we travelled all over the USA.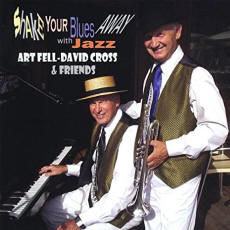 That's it folks; a wonderful life, full of interest. Half of it misspent and poor, the last half well-paid and full of challenges and interest. And my mum became very proud of me. Mr. Lowe too, by the way; towards the end of his life, I contacted him and although he claimed to forget the canings he was glad to see an old boy who had made good in the academic world. I was able in my memory to replace the cold, haughtiness of his headship with affection for a man who probably dreamed of turning John Ruskin School into some kind of public school and giving us all a good start in life.
Thanks to John Ruskin School for that vital Matriculation. Email

Your Webmaster adds: Shown right is an image of trumpeter David Cross with his musical collaborator, Art Fell, who also lives in the South of France. According to a review of "Shake Your Blues Away with Jazz" by Art Fell-Dave Cross & Friends in The Syncopated Times: "Recorded in 2006, the story of the album itself is interesting. Art was playing with a band at a very upscale resort in the Seychelles Islands, off the coast of East Africa, when a 'British Industrialist' invited him to record for his label MacJazz. He was invited to form a band for the engagement and brought in David Cross on trumpet. Two very busy British musicians, Bill Stagg, guitar, and Mike Godwin, bass, joined them in studio for what turned into an ambitious 24-track, 75-minute album with almost no rehearsal and very few takes, all recorded in one session. In other genres, and with less skilled musicians, that would be a disaster, in jazz it can sometimes be an asset. The warmth and entertainment of a live performance comes through."