Paul Graham (JRGS 1959-65) reports the sad death of Jim Thomas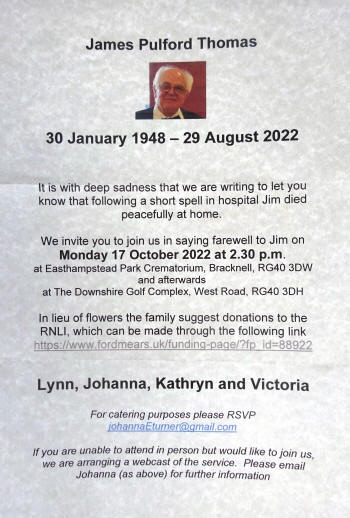 The sad news came out of the blue to me in todayís post, as shown left; I didnít have any warning about it in our annual Christmas card exchange last December. Click on the thumbnail to access a larger version.
Iíll be writing to Lynn, Jim's widow, but am not sure whether I will be able to get to the 17th October event. This is the appropriate link for donations; and catering email.
Jim provided The Mill with some personal background some 20 years ago when he joined the JRGS Alumni Group:
"I went to infant and primary school in New Addington at Fairchildes School," he wrote. "On leaving JRGS I went to do an Applied Physics degree on a "Thin Sandwich" course, which meant six months each year at Marconi's in Chelmsford, and six months each year at Brighton College of Technology (now Brighton University, I think!).
"It was a great way to get a degree and meant I was paid for six months of the year by Marconi. The course went on for four years and then I joined Marconi staff at the end in 1969.
"I had wanted to go into micro-electronics at the new English Electric factory near Chelmsford at Witham, where I had worked for one of the six-month assignments.
"But Arnie Wienstock and GEC had taken over EE and Marconi, and closed down almost all research. So I ended up in computing building a communication system. I have never escaped from computers ever since but it has been fairly successful none the less!"
Jim became a computer consultant working with telephone billing systems around the world, and enjoyed personal computing, gardening, DIY and "relaxing with a glass of wine with friends."
The couple have three daughters, and lived in Camberley, Surrey.

Your Webmaster adds: Jim attended the first informal Alumni Meeting at The Sandrock Shirley, in December 2001. I last saw him and Lynn during October 2016 in Long Beach, south of Los Angeles, at the end of their three-week sojourn, travelling primarily by train, We enjoyed a very pleasant dinner aboard the Queen Mary. RIP.


John Byford (JRGS 1959-66) adds: Thanks for the news, which came as a bit of a shock, because Jim and I we were in the same classes at Fairchildes Junior school - ditto my sister Janet, with Jim's younger brother, Mervyn.