Bob Hyslop (JRGS 1953-60) revisits his books whose hero attended the school...
Following my retirement in 2006 I have written historical novels and thrillers, all of which are now online. As part of that contribution to The Mill in July 2016, I provided an extract from one of my books, entitled Stay-Away Runs Away. The book's fictitious hero, Jonas Forbes, was an old boy of John Ruskin Central School. As I wrote, Jonas left in the school in 1945; the book contained several references to the then-headmaster Mr. McLeod.
Recently, I came across the following quotation from John Ruskin (1819-1900) that so sums up the worthless individual entrusted to Jonas as an escort to safety in London, with the Mafia in pursuit: "When a man is wrapped up in himself he makes a pretty small package."
Here, in an extract from Dare Call It Treason, is one of the lighter moments, revealing a common response to encountering grammar school pupils 60 ago:
"You don't say much, do you, Forbes?" No response. "I hope you can speak Russian – eh?"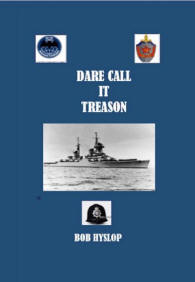 "No, sir. Unfortunately, I don't. My school tried to shove French down my throat with limited success and Latin just wasn't on offer."
"One of those Grammar School types – eh?"
"No sir! Perish the thought, sir. My school didn't turn Grammar till after I'd left, sir."
"Form of celebration?
"I don't think dear old McLeod would have bothered with all that rubbish," replied Jonas, remembering how his Head had managed to keep the school going through wartime shortages. He had to admit the old man had been fair – on the whole.
"That was a joke, Forbes," snapped the bureaucrat, upset that a rare lapse into humour had been ignored.
"Sorry, sir. "The apology didn't approach the eyes. "I didn't have much to do with languages until I joined the army."
Another foray into a folder – this time the one relating to Jonas Forbes. A frown appeared. "But your overseas war service was limited to Korea! You didn't tackle Chinese?"
"Good God, no, sir!" The laughter in the eyes grew. "It was hard enough trying to communicate with our allies, sir – and I do include the Yanks."
"So what languages can you speak?"
"A smattering of this and that – "
"'Smattering' isn't good enough, Forbes!"
As usual, the targets are pomposity and ignorance. Researching the 16 thrillers in "The Jonas Forbes Saga" revealed how much has changed in the world. I wonder, in fictional accounts of today's world, how much would surprise, horrify, amuse or impress a reader.
Bob Hyslop, Chichester, West Sussex; June 2020 Email