Third Grand Ruskin Reunion
Shirley Windmill - September 2011
The Third John Ruskin Grand Reunion was held between noon and 6:00 PM on Saturday 17th September, 2011, at The Surprise pub function room, with tours of The Shirley Windmill. The event attracted a total of 42 former pupils, teachers and their guests. Some attendees were from the Tamworth Road site and had finished their schooling before the outbreak of World War Two. 2009 Reunion | 2010 Reunion | 2012 Reunion | 2015 Reunion
Our thanks to co-organisers: Ian Macdonald (JRGS 1958–65) and Richard "Tom" Thomas (JRGS 1957–64).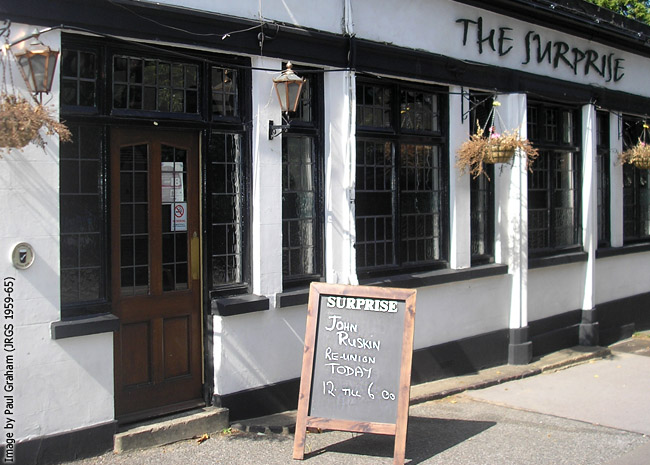 Martin Nunn, geography teacher for 16 years until 1973, related tales from his initial acceptance as a master, highlighting Mr. Charles "Pad" Peacock's resilience and fortitude in teaching after becoming blind, and Martin's own uncharacteristic smoking a cigarette in class in front of pupils at end of term (with the aim of warning of the dangers of smoking).
Martin was followed by former English teacher and principal Anne Smith, who told of the thinking and political machinations behind the formation of the new John Ruskin Sixth Form College at Selsdon on the former site of John Newnham Secondary School.
Last to take to the floor was the redoubtable Reginald Whellock, biology teacher from 1946 to 1956, author of three text books and an amazingly fluent speaker at age 97. He entertained all present with lamentations about the poor standard of current science teaching and reminiscences of his days at Ruskin. It was most heartening to note that at least half a dozen of his former pupils were present, as was Doreen, his wife. Both had just returned from a driving holiday in Yorkshire. (Doreen informs us that her husband's driving license is due for renewal at age 100 years!)
After the presentation of bottles of choice red wine to Anne Smith as the most "senior" female ex-alumnus or staff member, to Stan Yates as the furthest travelled, and to Reg Whellock as the most "senior" male ex-staff or alumnus, Tony Skrzypczyk (JRGS 1968-75 & FOSW Secretary) kindly provided a guided tour of the Mill - always a popular option and event highlight. Martin Nunn sold souvenirs from the Mill shop. The tour had started in good weather but ended in a downpour without dampening spirits.
Mel Lambert's distinguished efforts in setting up and continuing to run The Mill website received the grateful thanks of members.
Frazer Ashford (JRGS 1962-69) secured the following images at The Surprise pub next to the former JRGS school site on Upper Shirley Road. Click on any thumbnail to view a full-size version. Click here to view a Flash version.
Left-to-right: Peter Connelly, unknown, Melvyn Crabbe, unknown, Anne Smith, Principal, 1970-99, unknown, Mike Marsh (JRGS 1949-55) & Peter Marchant (1949-57).

Left-to-right: David Metz (JRGS
1962-64), Cliff Cummins
(JRGS 1956-62), Bob Hawkins
(JRGS 1958-64) and John
Turner (JRGS 1959-65).

Left-to-right: Martin Nunn, Reginald Whellock, a biology teacher from 1946 to 1956, and Richard "Tom" Thomas (JRGS 1957-64).

Left-to-right: unknown, Chris
Rook, Martin Nunn, and
Richard "Tom" Thomas.

Left-to-right: unknown, unknown, unknown, Malcolm Derrick (JRGS
1966-74) and Andy Stevens.

Left-to-right: Mrs. Doreen Whellock, Sheila Yates, Stan Yates (hidden), Reginald Whellock and Ralph King.

Left-to-right: Martin Nunn, Richard "Tom" Thomas and Anne Smith, English teacher/Principal, 1970-99.

Former geography and RI teacher Martin Nunn was at the school
from Sep 1957 to May 1973.

The Gathered Throng listen attentively to reunion co-organisers, Ian Macdonald (JRGS 1958–65)
and Richard "Tom" Thomas.
Many ex-Ruskins who wished to attend were unable to do so because of holidays or weddings. This was one reason Tom circulated a questionnaire seeking views as to date and frequency of future reunions; comment is sought on a future format and venue. PDF Form; please return your comments to Richard "Tom" Thomas. This is Croydon notice

Mike Marsh (JRGS 1949-55) also took some images, which can be found here. Shown right is former biology teacher, Reginald Whellock, now aged 97 years young. Click on the thumbnail to view a full-size version.
As Mike recalls: "Peter Marchant is seated next to me in the above photograph. I was pleased to meet up with him again after all these years. Peter only heard of the reunion by chance this year, or else he could have come last year. I went through school with him although Peter did rather better than me, staying on into sixth form. He was in the CCF (combined cadet force), then went on to Sandhurst and spent some years in the army. He finished up as a manager of a gin distillery in London. Peter lives not far away from The Surprise - the last I saw of him after the reunion he was walking home up the hill in the rain! (He could, of course, have been heading for a bus stop.)
"I am also to be seen in the last picture with Peter. The chap in the bottom right corner is Ron Hayle, who was at JRGS the same years as me, I think. Peter Townsend started before me by a couple of years; I am pretty sure that's him towards the left side with the blazer.
"In the other images, the lady in pink seated near Reg Whellock is Mrs. Doreen Whellock - they have been married 69 years. It looks like Reg got married somewhat later in life, aged 28, since he was born in 1914. I'm afraid that cannot name any of the others.
"Ron Hayle lives in Exeter, I think, although he is moving to Weymouth; he was a lab technician. He now lives on his own. It was Ron who brought Reg Whellock into The Surprise last year when the latter turned up after most people - including myself - had gone home."
An interview with Reg Whellock from the Old Croydonians website for ex-Selhurst pupils can be found here.
Paul Graham (JRGS 1959-66) also profiled Mr. Whellock in a recent submission.