The fourth John Ruskin Grand Reunion was held on Saturday 6th October, 2012, at its usual venue with tours of The Shirley Windmill. As before, the event at The Surprise pub function room was open to Alumni, teaching and other staff members who attended at Tamworth Road or at the Shirley Windmill site up to 1991 - plus their spouses/partners. 2009 Reunion | 2010 Reunion | 2011 Reunion | 2015 Reunion
Co-organisers were Ian Macdonald (JRGS 1958–65) and Richard "Tom" Thomas (JRGS 1957–64).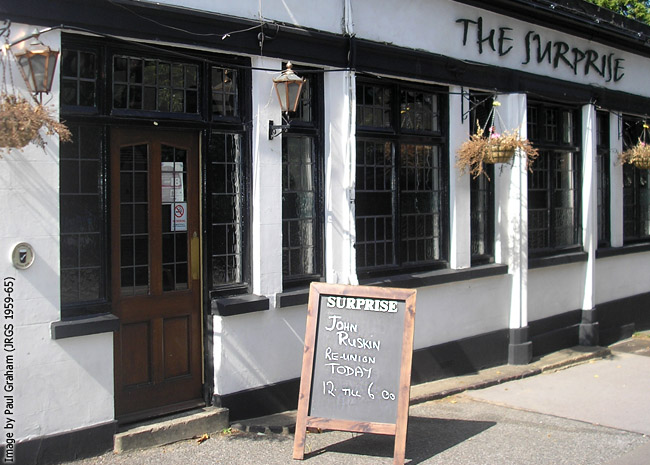 Ian thanked Tom, who was absent through work in Australia, for none the less organising much of the meeting, even sending printed name labels. Webmaster Mel Lambert (JRGS 1959-65) was both thanked and congratulated on running the very well-presented website that brought us together.
Anne Smith, former principal and now a governor of the current John Ruskin College, spoke of the development and changes that the school underwent and the different types of pupils attending. As the senior female ex-staff present, she was presented with a bottle of wine.
Next to speak was Martin Nunn, a geography teacher for 16 years until 1973, who related some embarrassing moments, involving unruly and violent pupils and a misguided experiment in allowing smoking in class.
The finale to the speeches was performed by the indefatigable 98 years-of-age Reg Whellock, biology teacher from 1946 to 1956, with visual aids of the signed congratulatory card from Queen Elizabeth for his and his wife Doreen's 70th Wedding anniversary, and cuttings from the local Croydon Advertiser newspaper. He recited a poem on old age, though himself seemingly immune to its effects. He spoke of royalties from text-books he had written, one of which, rejected by David Attenborough, was used to support his children through their university years. He signed a copy that John Turner (JRGS 1959-65) had brought along. As by far the oldest male ex-teacher, Reg received a bottle of wine. (His wife, Doreen also graced the reunion with her presence.)
Ken Woolston, who left JRCS in 1939, received a bottle for being the senior ex-pupil. The last bottle, for being the furthest travelled, went to Peter "Pedro" Goulding (JRGS 1958-64) from Thailand, who attended with Geoff Boyce (JRGS 1958-64). Both Peter and Geoff later met up with Dave "Chod" Quickenden (JRGS 1958-64) and John Turner for the first time since 1965.
Frazer Ashford took the main photos accompanying this article and shown below.
Ian mentioned that, due to the input needed to organise the reunions and the falling off in numbers, perhaps the next reunion should be in 2015 on the 95th Anniversary of the school. He aired the suggestion from Anne Smith that perhaps the present site of John Ruskin College on Selsdon Park Road, South Croydon, might be the venue. Catering could be arranged, and parking was available. Attendees were asked to fill in the feedback forms to indicate their feelings on this and other aspects of the reunion.
Kent Sadler provided the Mill Tour for a sole visitor, other attendees having visited in previous years.
Tom and Ian were thanked by all for organising the reunion. | This Is Croydon news item1 | News item2 |
Kent Sadler (JRGS 1969-76) adds: The reunion is always good fun, even for a latecomer such as me ('69-'76). It is only a shame that very few of my years come along (if any!).
Although I only showed one attendee round on the Saturday, Sunday got its revenge by providing over 160 people coming for our last open day of the year – a rather busy afternoon!
Geoff Boyce (JRGS 1958-65) has provided a picture of five old "U-Boys" from the same 1961/62 class - amazing! Click on either thumbnail to view full-size version. "A brilliant afternoon!" he considers.
"I took along my Letts Schoolboy's Diary - shown right - and reminded my former classmates of their 5U timetable! The two timetables for 5U from 1961-2 are the same. The red initials on the lower page indentify the teachers: M for Mr. Murray, R for Mr. Rees, T for Mr. Tryon, K for Mr. Cripps, W for Mr. Woodard, C for Mr. Chaundy and S for Mr. Smith, etc.
"On the next page is my timetable for the autumn term 1962 in the Lower VI Arts. I'll sort out some more pages for The Alumni. I'll have a look at my 1961 diary too. And I'll see if I can dig up photos I took of Mr. Rees teaching us the ablative absolute in Room 11.
"Incidentally, I actually left JRGS during my Third Year Sixth at the spring half-term of 1965. Mr. "Joe" Lowe wrote me a letter saying he had not seen me for a while. Would I either care to make an appearance or come back and shake his hand and leave formally?! Since I'd already been offered a place at UKC - University of Kent at Canterbury - to read sociology, I left forthwith and got a job. (At UKC I was part of first intake of brand new university, one of the seven 'plate-glass universities'.)"
Left-to-right around table: Bob Hawkins (JRGS
1958-64, Geoff Boyce (JRGS 1958-65) Dave Quickenden (JRGS 1958-64) - always known as
"Chod" - Pete Goulding (JRGS 1958-64) - always
known as "Pedro" - and John Turner (JRGS
1958-65). Just caught on the left of the
picture is Mick Poore (JRGS 1957-64).
"Pete Goulding and I had not seen
the others since the 1960s," Geoff offers.
Frazer Ashford (JRGS 1962-69) secured the following images at The Surprise pub next to the former JRGS school site on Upper Shirley Road. Click on any thumbnail to view a full-size version. Click here to view a Flash version.
Left-to-right: Kent Sadler (JRGS 1969-76), Anne Smith, English
Teacher/Principal, 1970-99, TBA.

Left-to-right: TBA.

The Gathered Throng listen
attentively to reunion
co-organiser, Ian Macdonald.

Co-organiser Ian Macdonald
(JRGS 1958–65).

Anne Smith, English
Teacher/Principal, 1970-99.

Left-to-right: Ian Macdonald
(JRGS 1958–65) and Anne Smith.

Reg B. Whellock,
JRGS Teacher, 1946-56.

Left-to-right: Members of 1961's
5U, also pictured above.

Ian Macdonald presents
"Senior Female ex-Staff
Award" to Anne Smith.

Martin Nunn,
JRGS Teacher, 1957-73.

Reg Whellock with card
from Queen Elizabeth II.

Reg Whellock with
Croydon Advertiser article.

Reg Whellock receives
"Oldest Male ex-Teacher
Award" from Ian Macdonald.

Ken Woolston receives
"Senior ex-Pupil Award"
from Ian Macdonald.

Peter Goulding receives
"Furthest Travelled Award"
from Ian Macdonald.