On Saturday 11th September 2010 the Second Annual Ruskin Reunion took place at The Surprise pub on Upper Shirley Road, Croydon. The event attracted a total of 64 former pupils and teachers from the Tamworth Road and Shirley sites, together with seven volunteer helpers. 2009 Reunion | 2011 Reunion | 2012 Reunion | 2015 Reunion
Former principal Anne Smith gave a keynote speech in which she spoke of the school's transition from Grammar to Comprehensive and the introduction of girls as pupils.
Peter Oxlade, a pupil from 1940 to 44 and later a school governor, read a message from Charles Smith our renowned PE and Maths teacher who, unfortunately, was unable to attend.
Our thanks to the event co-organizers: Ian Macdonald (JRGS 1958-65) and Richard Thomas (JRGS 1957-64).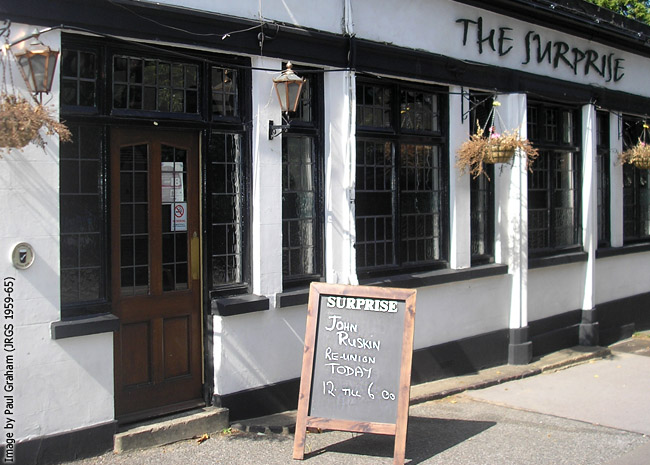 For those present at the time of the short speeches, prize vouchers were given to the attendees from the farthest location and to the oldest former teacher and pupil present. This year prizes went to Roger "Wally" Walters and to Chris Gorring, who had travelled from Australia.
The "Oldest Teacher Award" was presented to Martin Nunn, former Geography and Religious Studies teacher. Later in the day, when Reginald Whellock arrived, Martin nobly handed the prize to him. Mr. Whellock was a biology teacher whose looks belied his 96 years. He joined the school in September 1946 and left a decade later for Wandsworth School, London. He was recognised by two former pupils, who were delighted, if not astounded, to meet him again. Mr. Whellock has already said he will attend the next reunion and drive there! The oldest pupil was Ken Woolston, who attended the Tamworth Road site from 1935 to 1939.
In addition to our two Alumni who travelled from Australia, Martin Preuveneers (JRGS 1958-65) travelled to the Reunion from USA.
Guided tours of The Mill, formerly used as sports changing rooms but now fully restored, were provided by The Friends of Shirley Mill.
Four Archive Films from Sixties
A film show of 1960s activities was presented in The Mill since black-out could not be achieved at The Surprise. The presentation comprised four short films from 1965.
The Ivory Coast Appeal was a fund raising hospital bed-pushing event through Selsdon and Sanderstead to raise money for a new hospital in the Ivory Coast. The charity event had been organised by Addington Methodist Church Youth Club, which numerous Ruskin pupils attended.
Camber Sands was a record of a day trip to the beach by a number of sixth formers and their girlfriends.
Whit Monday 1965 was a record of a similar day trip on three punts on The Wey Navigation in Surrey.
Ruskin stars in these three films included Ian Davies, Bob Hawkins, Bob Askew, Roy Lemmer, John Wheal, Mike Wrigglesworth, Paul Green, John Whittington, George Strelczuk and Richard "Tom" Thomas.
The final film was of the Dedication and Parade of New Colours in 1965 for 1st Cadet Battalion, The Queens Regiment, Surrey Army Cadet Force, on its 50th Anniversary. The parade was held in the playground of John Ruskin Grammar School. Amongst others, teachers John Radcliffe and Kenneth Maggs plus Ian Macdonald appear in this film.
The event was considered a pleasant afternoon of renewal of some old and some vintage acquaintances, with the chance to view a good display of memorabilia.
Anybody who missed this year's event may well wish to attend the next one. When the feedback forms have been analysed the results will be published here, together with further details of the next Ruskin Reunion.
Please contact joint organisers Richard "Tom" Thomas or Ian Macdonald for further information.
Mike Marsh (JRGS 1949-55) adds: The 11th of September Reunion was a very successful event.
I took a number of pictures that can be found here. My original Picasa Web Album can be viewed here.
| | | | |
| --- | --- | --- | --- |
| | | | |
| The Shirley Windmill | Ian Macdonald & Tom Thomas | Anne Smith | Peter Oxlade |
Peter Oxlade (JRCS 1940-44) adds: The Reunion was very good again and the organization well managed.
Much to my surprise we have found a pupil that outscores me. (Good for my ego!!) His name is Ken Woolston and was at Ruskin 1935-39. Ken advised me that he left in 1939 because the school was to be evacuated and his family thought it would be better for him to seek employment. Ken started in the insurance work and specialised in shipping insurance! (A bit risky at that time I would have thought?) I have encouraged Ken to write to the Webmaster so that his story can be circulated.
I went to see former JRGS teacher Charles Smith on the Friday before the Reunion and passed on our personal regards, which brought a big smile and a nod of the head that showed his appreciation. Unfortunately, his PC has stopped performing so I will be acting as messenger by downloading as required and delivering by hand.
---
This is the personal message from CES that I read out at the JRGS Reunion last Saturday:
"I had hoped to be with you all at the John Ruskin Grand Reunion to be held at The Surprise pub's reception room. Unfortunately, my health has not improved enough for me to be able to achieve this event , so I am sending this message to let you know that I am still - and will remain - a very committed member of the John Ruskin Brigade!!
"It seems like only yesterday that we were talking of the 2009 reunion and here we are looking forward to the 2010 event. I do hope that it will be as successful as last year.
"It has been a difficult year for me as anno domini has had more and more of a say in my life, but I am always uplifted when we receive the latest contributions to the JRGS website. What a magnificent pleasure it does give us all. I think that a big 'Thank you' to Mel Lambert for managing The Mill, which has given us all so much pleasure. Thank you Mel; it is a great uplifting experience just looking back at the times expressed by so many.
"My memories of my time at Ruskin are many and varied. The faces are still clearly in my mind but adding the names to the faces I regret does defeat me in the main. I have been so privileged to pay some small contribution to the development of so many boys (and latterly girls) in their journey from young people to adulthood and to see how so many of them have been so successful in their chosen careers.
"My very best wishes to you all and to all those who are unable to attend the re-union
"So, it's goodbye for now from CES – you know 'Smithy'...'Old Smut' that mild little man you used to brushed to one side as you raced down the school corridor . NO? Very well then... I am that mixture of Attila the Hun, Genghis Khan and The Ogre from the top of the beanstalk? Well, please yourselves then.
"May the Lord bless and keep you all safe and well." - CES September 2010.
Dave Talks (JRGS 1968-75) adds: I secured these four images during the recent Ruskin Reunion at The Surprise pub; click on any thumbnail to view a larger version.
Mr. Brian Cook was physics and mathematics teacher at JRGS from 1959 to 1972.

| | | | |
| --- | --- | --- | --- |
| | | | |
| Elaine and Brian Cook | View of Canary Wharf | Windmill sail | Changing room |
I was delighted to visit the changing room at the playing field site on the way home from the reunion. I thought the area on Oaks Road had all been built on, too! I fondly remember knocking out mud from football boots against this wall - and memories of heaps of dried mud with holes in on the ground underneath!